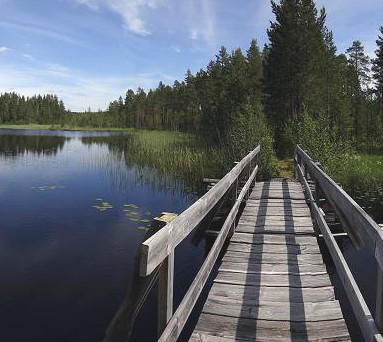 Welcome to Fjällsjö Hiking Eldorado
Here are plenty of things to enjoy! What do you feel like doing?
Climb the mountain Kläpp and overlook the Fjällsjö area from the top cabin
Walk around the Backe lake and work out in the outside gym
Go for a guided batsafari along Flottarstigen, "The Logging Trail"
Rock the famous "Rocking Boulder" by hand
Walk the sandbanks of the Ice Age along Djuptjärnsstigen!
See the remains from the pasture period at Jansjöbodarna
Rent a canoe and make your own beaver safari!
See rock painting from the stone age and count thousands of boulders
Grill by the Lidtjärn lake and watch the dragonflies hover over the water surface
Sleep like a lumberjack in Svarttjärnsstugan "the Blacklake cabin" - free accomodation for a day or two
Pick lingonberries, billberries, cloudberries and mushrooms along the road
Or just lay down in the moss and listen to the silence...
Read more about the diffrerent trails in the hiking section. A total of 60km paths to explore!